ALLFLEX BEEF AMBASSADOR PROGRAMME
ABOUT
The Allflex Beef Ambassador Programme began in 2008; the award was introduced to identify standout participants from the 'Hoof & Hook' event and provide them with the opportunity to grow their knowledge and experience of the Beef Industry.
The Future Beef Allflex Senior and Intermediate Beef Ambassador awards are now recognized as the most prestigious awards for youth of the Beef Industry to win.
Participants are awarded points for modules, steer handling, an interview as well as their attitude and involvement over the weekend, these are added together to ascertain who the winner for each section is. The intermediate age group is 13-17 and the senior age group is 18-25.
Recipients of the award given the opportunity to go on a beef industry based trip sponsored by Allflex NZ. For many winning this award has changed their beef industry careers; allowing them to gain confidence, providing networking opportunities and growing their beef industry knowledge on a global scale.
MEET OUR 2017 AMBASSADORS...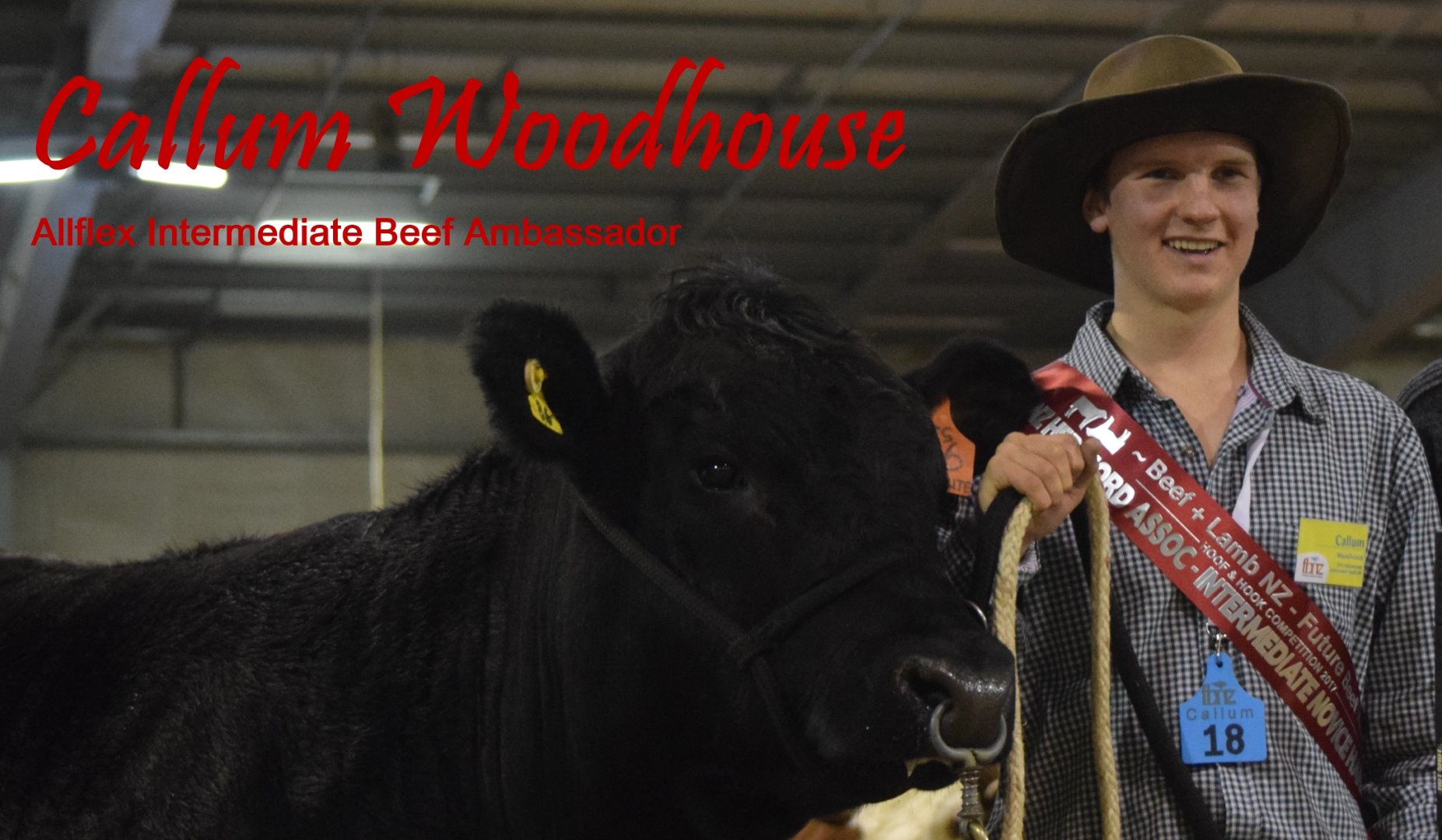 Callum Woodhouse may have been a first time competitor at this year's Beef + Lamb NZ Future Beef 'Hoof & Hook' competition but he is certainly no stranger to agriculture or the beef industry. Growing up on his parent's sheep and beef farm just east of Eketahuna, Woodhouse has developed a great passion for the industry and has been involved in several aspects of the industry through his agricultural studies at school and heavy involvement with NZ Young Farmers. Last year he won the national TeenAg competition with younger brother Archie at the Young Farmer of the Year competition in Timaru. He is also the Chairperson of his schools TeenAg club, participated in the 2016 Wairarapa District Young Farmer's Regional final and has been involved in mentoring teens from the East Coast for the TeenAg competition.
Currently in his final year of secondary schooling and Deputy Head Boy at Rathkeale College, Masterton, Woodhouse is firmly focused on a career in agriculture "next year I will be going to Lincoln University to study Agricultural Science and I hope to one-day land a job working with farmers in the field". Woodhouse would also like to travel overseas to experience agricultural operations in other countries to help broaden his knowledge on agriculture and provide new perspective on agricultural practices in New Zealand. Ultimately he would like to return to sheep and beef farming as it is the varied outdoor work that he enjoys most.
Woodhouse has high praise for the 'Hoof & Hook' event and is keen to return in 2018 "Being a novice competitor I was thoroughly impressed with the layout of the event. I enjoyed learning more about the industry and the modules as well as networking with other likeminded individuals". But the real highlight was getting to work with and show his steer which was provided by Lauren Cameron of the Maungaraki Cattle Company, for Woodhouse this is a very different way of working with cattle than he is accustomed to and an experience from which he learnt a lot.
Woodhouse is excited about the opportunity that winning the Allflex Intermediate Beef Ambassador award provides to further learn about the New Zealand Beef industry "I hope to broaden my understanding and apply this to my future career in agriculture". He also looks forward to continuing to promote agriculture to his peers and help other novice competitors to have a go at Future Beef in the years to come "I want to help raise awareness and inspire our generation to be as passionate and proud of the New Zealand beef industry as I am".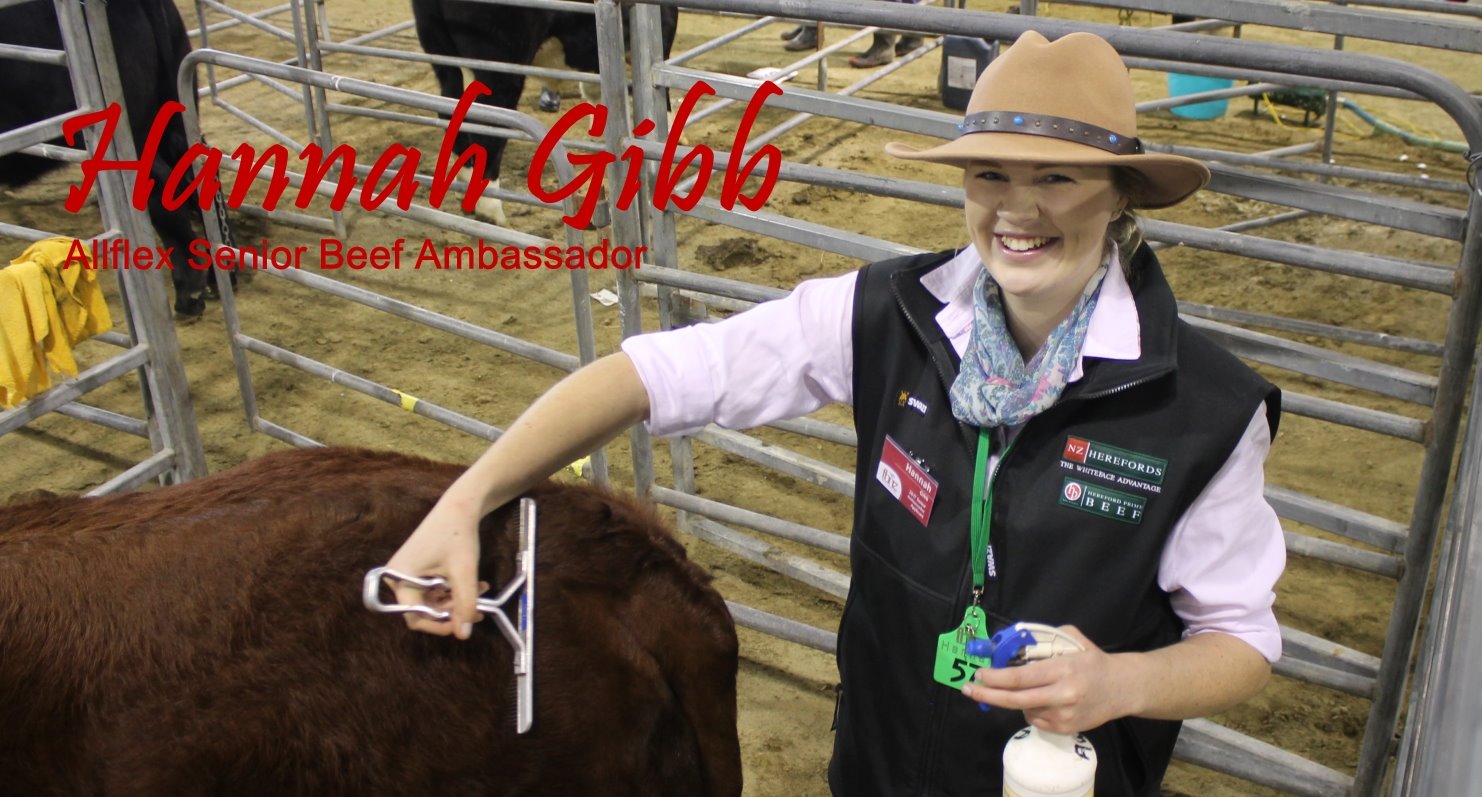 Young Hereford breeder, Hannah Gibb, is the deserving recipient of the 2017 Allflex Senior Beef Ambassador award. Growing up in the Manawatu, Gibb has been actively involved with her family's sheep and beef farm from a young age and now owns a small Hereford stud with cousin Sophie Langtry registered under the prefix 'Awhea' which her grandparents ran their Hereford Stud under for 29 years before dispersing in 2009. She enjoys exhibiting her cattle at various A&P Shows around the lower North Island promoting her stud and the Hereford breed, and has already sold 3 bulls at the National Beef Expo in her short time as a breeder.
Gibb first competed in the Future Beef 'Hoof & Hook' competition in 2012 and quickly created a name for herself as one to watch in the beef industry when she was awarded the Intermediate Beef Ambassador title the following year in 2013. She has continued to break in and exhibit steers at the competition over the years "I enjoy gaining more experience and confidence, and building my knowledge every year". Not only has she grown her own experience from the event but also helped others to gain experience by supplying steers for other participants who are new to the competition.
Gibb is in her final year of studying a Bachelor of AgriScience, majoring Agriculture at Massey University and is also involved with the Massey Young Farmers Club where she is on the executive committee as the Professional Development Officer. This along with her role as the NZ Hereford Association Ambassador programme co-ordinator allow her to be actively involved in supporting youth both not only within Hereford breed and beef industry but also the agricultural industry as a whole. "These roles allow me to offer various events including networking and skills days to young people, encouraging them to attend these events and partake in agricultural related activities and competitions".
Long-term, Gibb has her sights set on a career within the New Zealand red meat sector with several different areas of interest including breeding and genetics, growth production and meat quality grading systems "I would love to work in a role where I can combine all my areas of interest to promote and market NZ red meat products in both domestic and global markets. I am passionate about promoting quality branded products and encouraging and educating farmers on producing them." But first she wants to see how the rest of the world does agriculture "I plan on spending the first months of next year in Europe and Australia, with a focus on their agricultural industries, working for different studs and farms".
Humbled to win the Allflex Senior Beef Ambassador award for 2017, Gibb is excited by the opportunities that the award provides "Winning this title provides the amazing opportunity for me to venture out of NZ, for new doors to be opened, and for me to extend my knowledge to bring back and share with new and fellow future-beefians! Winning the ambassadorship also means I will now be able to give back to the competition, encourage participants, get involved with the committee and support the future of our beef industry".