Shorthorns, snow, and showing.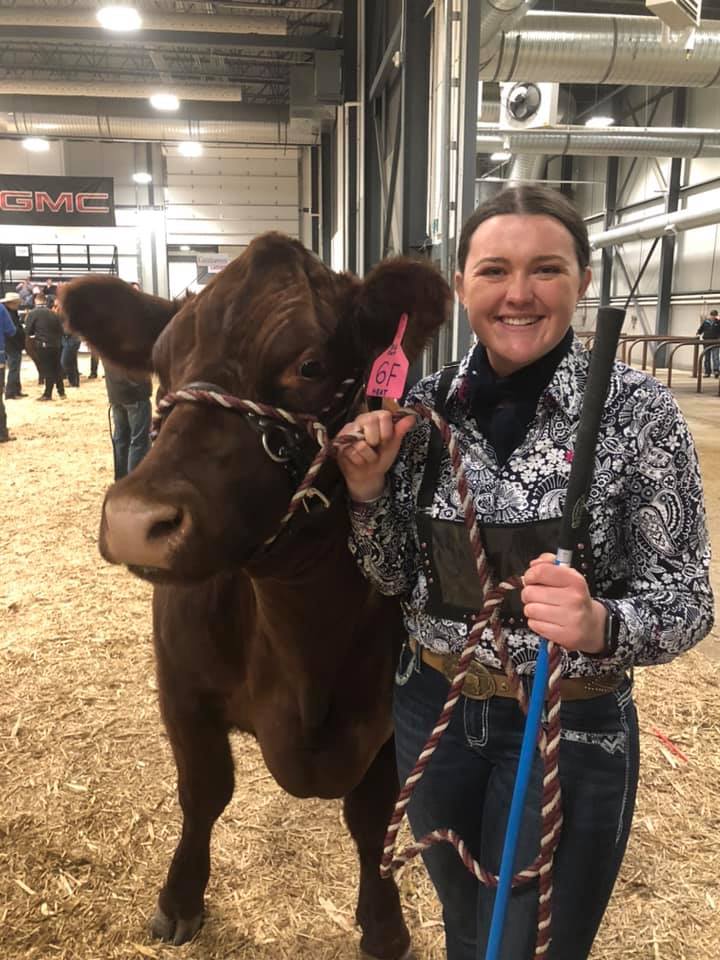 Traveling to Canada in November was a trip of a lifetime, starting in Manitoba with the Dekeyser Family and co was an incredible start to my four and ½ week journey. Driving cattle home from summer pastures to visiting 4 studs was an eye-opener, learning about each studs objectives and breeding plans, that custom to their environment. The cattle were exceptional everywhere and understanding the passion and drive to improve the shorthorn breed, for both commercial and stud. I am excited to start using this knowledge that I have learned from these exceptional breeders in my stud.
Once leaving Manitoba, I headed to Regina for a few weeks for the 2019 Canadian Western Agribition. Before Agribition more sights were taken in, farming in Canada is vastly different from here, feeding and preparing cattle a whole different world to what we know. I was lucky enough to visit Ceylon Gap Feeders, which is a feedlot. They fatten 20,000 head of cattle each year. The welfare, health, and management of feeding are pretty incredible. It was interesting learning about their future goals in the feedlot, the purchasing of the cattle, fattening and implantation. There were multiple breeds within each yard, it was very easy to spot a shorthorn! In each yard, they are mobbed together in similar weights for feed requirements to maximum productivity of that yard, they are feed 3 times a day and thoroughly checked morning and night. It was a great time and is something that I would love to learn more about!
Agribition was amazing! Having the opportunity to help RamRod Cattle company and Anwender Cattle company, their cattle are remarkable. I competed in the showmanship class, this was a different style of handlers to what I know, different techniques for standing cattle up and always having a brush in the back pocket was certainly a new thing for me, I loved every minute and felt like home when in a show ring with a shorthorn on the lead. The greatest anticipation I have ever felt was watching the supreme extreme, here 34 champion winners in both male and female classes are all seeking the winning 'slap' from the judge. Just imagine, lights off, spotlight on, intense music, and on the edge of your seat. Then a man running and he has just slapped the winning animal, the crowd roars with excitement, you just witnessed a year's preparation pay off in the most incredible way.
After Agribition, I spent a week preparing cattle for HH livestock first stud sale and visited many more fantastic studs. Again the cattle were incredible and after leaving Matlock Farms Ltd, I have purchased straws from one of their bulls, he will help improve my stud and help my new breeding objective created from this trip. Selling stock commercially is similar to here however the prices differ, another farming difference is that they have the opportunity to feed bales out by horse. The weather is certainly different, the coldest was -24 degrees which we only think about at home and is considered unrealistic but there it's just a normal day.
Visiting all the shorthorn studs was a huge eye-opener to what the shorthorn breed can offer and the vast differences between the different studs and locations. Depth and width are something I have taken away from this trip and my new breeding goal is achieving a greater depth in my heifers. I would like to thank the many breeders and people that gave up their time and hospitality for a New Zealander to have a taste of their lives and learn about breeding plans and objectives within the Shorthorn breed. The knowledge I have learned is incredible, this experience is once in a lifetime and it wouldn't of been possible without Future Beef and their sponsors. Being the 2019 Allflex Beef ambassador is an amazing opportunity and has allowed me to travel the world meeting like-minded people and see some remarkable cattle. So thank you very much for this opportunity and many more to come.